Fire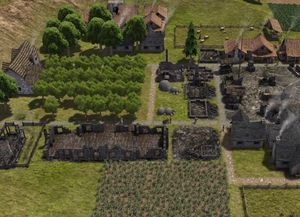 Fire is a type of disaster that can threaten the existence of your whole town, if no wells or nearby rivers or lakes are available to put the fire out.
Fires have been reported to have started in housing, Storage Barns, markets, tailors, and blacksmiths. Users have reported fires starting in empty houses, in towns with 0 citizens.
Fire spread
The spread of fire from building to building may be affected by the following factors.
Spacing - Fire will not jump over a certain number of tiles, possibly 5 [1]. It has been reported that fire will jump 4 tiles. The number of spaces between buildings may decrease the chance fire will jump.
Aspects - a building may be more likely to catch fire if it is surrounded on multiple sides by fire.
Building Materials - A wooden building may catch more readily than a stone building. The anecdotal consensus is strong on this for houses, but less-reported for civic and commercial buildings (for example, wooden tailors vs. stone churches).
Building Types - Stockpiles, Farms, Orchards, and Pastures might not catch on fire. Other buildings may catch on fire with equal probability (factoring in building materials), or certain structures may catch on fire more readily.
Firefighting - Citizens will carry water from wells and possibly from lakes and rivers. This can slow the spread of a fire. Citizens from different professions have been reported fighting fires. Using the Increase Priority tool to highlight the burning building, the well, or the area adjacent to the fire may be helpful.
Gameplay
Environment
Tutorials
Technical
References
---
Cookies help us deliver our services. By using our services, you agree to our use of cookies.