Bridges
It is requested that an image be included in this article to improve its quality.
Bridges can be built over rivers, in order to allow citizens to cross.
They are found in the Roads and Bridges category, the fourth button (F4) in the lower right interface bar shaped like a wheel.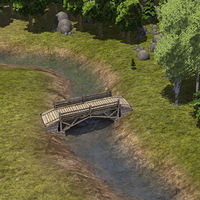 Wooden Bridges
Building Time: 3 Labor for each unit of length.
Stone Bridges
See also